VHF Short Range Certificate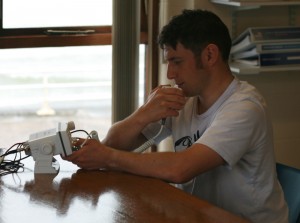 This course is a must for anyone who owns a marine VHF, whether its a fixed or handheld set. Learn how to use your VHF with confidence, to effectively communicate with harbours, marinas, your fellow water users or the coastguard. And should it become necessary how to summon help if you need it.
We currently offer this as a one day class room based course, with some required pre course home study (it should take about 3 hours) that you will be sent with your course pack (this enables us to keep the classroom part to 1 day), or as an online interactive course. For either course you will need to sit a short face to face assessment once the course is complete.
The radio is an important piece of safety equipment on board and combined with its DSC functions forms a very effective way to make a distress call. Its also very important to understand how not to interfere with other distress calls that maybe going on.
We try to make this course fun with as much time as possible spent using training versions of the type of radio you may have on your boat.
By the end of the course you will be able to:
Understand the Radio Rules and Regs
Operate Marine VHF DSC equipment
Call using the correct channel
Understand basic radio language
Use the Phonetic Alphabet
Make calls to other stations
Send a Distress Alert and Distress Message
Learn about the Global Maritime Distress & Safety System
Send an Urgency Alert and a Safety Call
Qualify for a Short Range Certificate
The Short Range Certificate is the minimum qualification required by law to control the operation of VHF and VHF Digital Selective Calling (DSC)  equipment on any British flagged vessel voluntarily fitted with a radio. This includes both fixed and hand held equipment using International channels. All new VHF sets are either fitted, or can be interfaced, with DSC allowing calls to specific vessels. If you hold the 'old' VHF license (pre-1999) you need to upgrade your qualification if you purchase new equipment. This can be done by attending this one-day course.
Try a taster of the course http://www.rya.org.uk/coursestraining/courses/specialist/Pages/OnlineSRCtaster.aspx
Course Fees:
Classroom course £85 per person
Pre exam practical practice £45 per person (3 hrs)
You will also need to also pay an assessment fee on successful completion of £60 directly to the RYA, this is in addition to the course fee.
Please ensure you read our terms and conditions before you make a booking